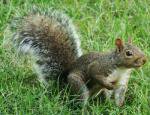 When the charming acrobat that visits your bird table each  day, decides to move in upstairs, it is time to take swift action. Squirrels in your attic can be extremely destructive once they have access to your wiring, woodwork, and plumbing,  and need to be evicted  without delay.
This article takes a look at what your options are for getting rid of your new lodgers and at what steps you can take to prevent the squirrels returning.
Why you need to remove squirrels quickly
A squirrel that moves into your attic in late winter or early spring is highly likely to be looking for a place to raise her babies.  Once she has produced a litter you will have four or five squirrels in your roof, instead of one.  For more information on squirrel biology and habits, and on the destruction  they cause, read our 'all about squirrels' information page.  To minimise the damage you need to act now.
First (and best) line of defence: blocking access
The quickest and most straightforward action you can take, is to securely block up the entrance that the squirrel is using to get into your loft space whilst the squirrel is out foraging for food.  You will need to use wire netting or something similar, as the squirrel will simply chew through most other repairs. 
In some cases, this is all that needs to be done.  If you can't work out how the squirrel is getting in, or you can't get to the entrance hole because it too high up,  call your pest control contractor, and they will block the hole up for you.  Unfortunately, if the access hole is located in a wooden soffit board, the squirrel may well simply chew another entrance way.  In which case you will have to consider your remaining options for removing the squirrel.
Remaining options
No-one wants to kill one of these charming animals.  However, if you cannot prevent the squirrel from accessing your loft,  a death sentence is now the only legal option.  This is because it is illegal to release a captive squirrel back into the wild in the UK.( see "all about squirrels")  Clearly you cannot leave the squirrels to rampage around your attic and feast on your electric wires.  The risk of burning in your bed or coming home to a heap of cinders, is just too great.  The squirrel has to go.  Therefore your options now are trapping, or poison.
Trapping
There are two ways to trap squirrels,  either in a 'live catch' trap or in a trap that kills the squirrel outright.  The latter is probably the most humane, as the squirrel in the live catch trap is likely to be very stressed in the interval between being caught, and being despatched.  If you want to attempt trapping yourself,  then you will need to be able to humanely despatch a squirrel caught in a live catch trap, or willing to remove and dispose of the corpse of the squirrel which has been caught in the humane kill trap.  Not everybody's cup of  tea!  In addition to which,  there is an art to setting, baiting, and locating traps effectively,  which takes time and practice to learn.  You will also need to purchase the traps.   For these reasons, most householders opt to have their squirrels trapped by a pest control contractor.
If you decide to do it yourself, you will need to purchase a trap, 'pre-bait' it for several days, before 'setting the trap' to catch your squirrel.  Live caught squirrels must be despatched humanely.  If you are not sure how to do this, contact your pest control contractor or your vet.
Poison
Squirrels can be killed using a warfarin based poison baits.  The use of these baits is restricted and they are not available to the general public.  If you want to have the squirrels in your loft poisoned, you will need to call your pest control contractor
A professional approach
There are a lot of advantages to having your squirrel problem dealt with professionally and this is certainly the choice most people opt for. It can be very upsetting having to despatch a frightened mammal,  and traps are quite expensive to buy.
Your pest control contractor should be able to give you advice on the options he offers, and the fees he charges for squirrel removal, over the telephone.
For more information about squirrels visit our webpage 'All about squirrels'
For the very best in Professional Pest Control you can call us now on 01428 714031