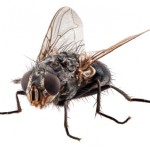 Whether you own a food related business, or simply have a house in a rural area electronic fly killers are an excellent way to deal with infestations of flying insects.  For a one off fee you have a machine that attracts them to UV light and then either kills them with an electric shock, or a glue board.  If you have one of these machines then you will have instantly noticed what a difference it made the moment you installed it.
But over time the bulbs lose their attractive power, and the grills or glue boards become clogged.  They start to look more ugly and help less.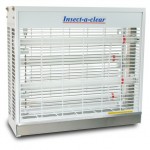 The answer is simple.  If you have an Electronic Fly Killer then you need to get it serviced annually.  Much like any equipment if you look after it it will continue to do its job for many years.  With the cluster fly season just starting there is no better time to have your machine serviced than now.  We will replace the bulbs and starters to ensure they work at full efficiency, we will dis-assemble the machine and clean all the grills, grids and surfaces and have it working at full power in no time at all.  If we find any serious problems (UV light can degrade and crack the plastic on cheaper models) we'll let you know so you can decide what to do about it.
Don't put up with flies, or machines doing half a job, give us a call and arrange for one of our technicians to come out and service your machine, whatever make and model you have we can help.
01428 714031