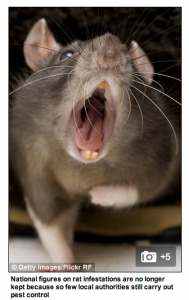 If this morning's article in the daily mail is anything to go by, the nation is currently being invaded by a 'plague' of rats.
Homeowner Tanith Carey tells of her horror at discovering that she and her husband are sharing their home with an entire family of large rodents.
We read headlines like these at regular intervals, each year, and whilst it is unlikely that rats are about to take over the world, or even your home, it is true that the rat population is rising.
Why are we so mean to rats?
Some of you may wonder what the big deal is.   Rats are actually very intelligent, social mammals.  And to many of us, they are quite pretty animals.
So why is it we wage such a war against them?
Sadly, it is because rats are important vectors of disease.  They carry a number of horrible and serious pathogens that can make you, your pets, and your family, very sick
You can read more about rats and the problems they cause in this article: All about rats
In the meantime, what should you do if rats move into your home?
What should you do?
It is important that rats are dealt with effectively, and an experienced pest control contractor is a good place to start.
They will assess the problem, get it under control, and most importantly, give you effective advice on preventing a recurrence.
If you are in Surrey, Hampshire, West Sussex or Berkshire, we can help you solve your rat problem.  Just give us a ring
01428 714031
And we'll be happy to have a chat.